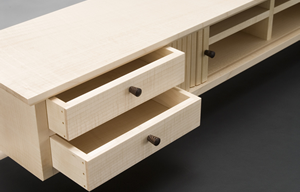 Craftsmanship + Design in wood. Sydney & South Coast of New South Wales, Australia
Warwick Wright is a designer / maker of contemporary handcrafted furniture and urban spaces with attention to detail capture the beauty of the timber and the spirit of the maker in the tradition of well crafted studio furniture.
Materials
His work showcases the palette of colours available in timber, and particularly Australian timber, which provide beautiful patterns and texture not seen in commercial furniture. Reclaimed and recycled timber, including rescue timber from our native forests, is increasingly being used in support of sustainable forest management and responsible use of our precious natural resources.
Teachers
Warwick has had the good fortune to work with and learn from some of the best woodworking teachers in Australia including Richard Vaughan, Robert Howard and Tom Harrington, Director Sturt School for Wood.
Studio Woodworkers Australia
Warwick is a Founding Member and former Director of SWA which is a association of professional designer – makers &  artists in wood. Click here for updates on SWA.